The US Radio advertising market is about $18 B according and the Podcasting market is about $1B.
The PWC report on podcasting talks in more detail about podcast advertising and the formats of advertising (length of ads, type, industry, topic, etc).
Nearly 115 Million adults listen to radio each month, with Country music, News/Talk and Adult contemporary being the top formats.
104 Million adults listen to a podcast every month, with News, Politics, Sports and Humor being the top formats.
Not surprisingly, the car tended to be where most people listened to radio, while podcasts were listened to while walking, working out or at home.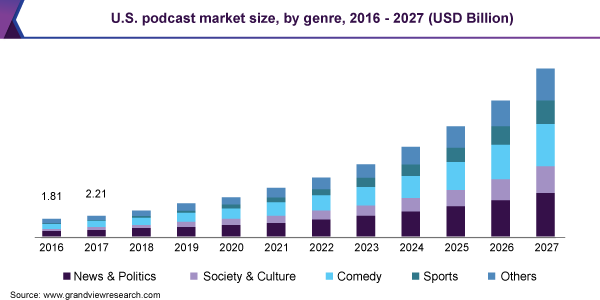 If you want to compare apples to apples, there are 1700 talk radio stations in the US alone. There are over 850K podcasts, with 120K of them active monthly.
In terms of time spent, because of Covid and reduction in commute hours, the # of radio listeners and hours listened should have gone down, but the numbers indicate otherwise.
According to the BBC, the time spend listening to radio post March 2020 has increased 15%.
The main trends in podcasting are the rise of programmatic advertising and use of location data to personalize ads.