What is the market size?
The US Pet care industry is about $77B – $90B, growing at 2.5% annually. It is expected to grow rapidly, reaching over $100B – $120B by 2025.
There are 17 companies in this industry that are public (or about to go public). There may be a few more, but these companies make more than 70% of their revenues from selling to pet parents or pet owners.
How has the industry performed as a segment in 2020?
The industry ETF (Invesco PAWS) is in the 97th percentile of performing funds, returning over 60% for the year.
What are the segments within this industry?
The 17 stocks (and more in the < $500M stock Market Cap), are in 5 segments:
1. Food (consumables, treats, cat litter, etc.). This segment covers a wide range of products such as dry and wet food for dogs and cats, bird feed, crickets and worms for reptiles and other treats and supplements.
2. Supplies (OTC medicine, toys, etc.). Products in this segment include over-the-counter medicines, food bowls, collars and leashes, pet clothing, brushes and combs, shovels and scoopers, cat litter, cages birds and reptiles, travel carriers and other various accessories for pets.
3. Health (prescriptions, vet care).
4. Live animals (birds, mice) and
5. Other services (Rover for dog walking, Grooming, pet insurance, etc.). Pet services were the fastest-growing product segment for the industry over the past five years, reaching an estimated 7.7% of total industry revenue in 2020. Pet services include full-service grooming, haircuts, baths, toenail trimming and tooth brushing. This segment excludes veterinary services.
The sub segments that are growing the fastest are Other services (7%) and Supplies 6%.
How have individual stocks performed within this industry?
The top 10 stocks in the list I track have all beaten the S&P 500 (+13.5%) and NASDAQ (+40%) this year.
The average dog owner for example spends over $2000 annually on their pets with the most being spent on Surgical visits, Vet services, Food, Kennel services & grooming.
Will the industry keep growing?
Over 67% of US households own pets with most homes owing a dogs and cats.
What does the industry value chain look like?
While retail (Petco, Petsmart, Chewy, Barkbox) margins are in the 20-40%, manufacturer (Freshpet, Zoetis) are closer to 40-50% and services (Trupanion) are in the 50%+.
US Pet retail is $20B, with 1.7% CAGR 2015-2020 but growing at 2.3% 2020-2025
The pet technology market map from CB insights further tracks the technology companies innovating in the space from Chewy and Barkbox to Rover and Wagz (werables)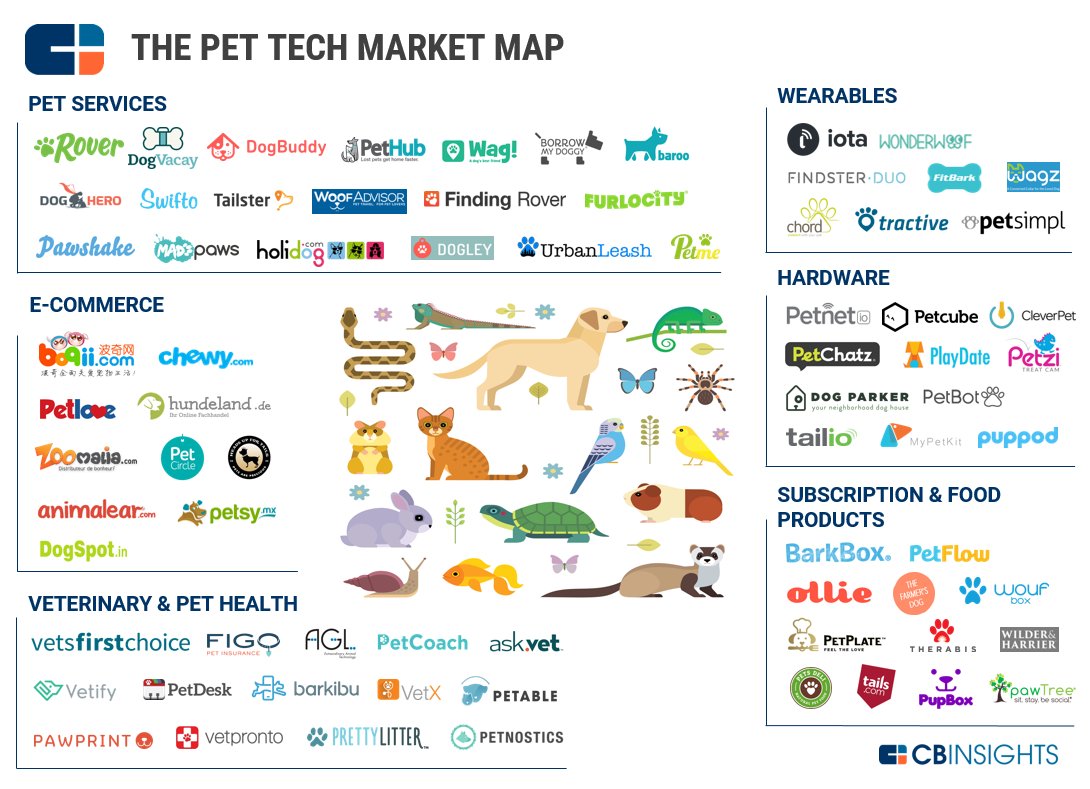 What are the key industry trends for 2021?
In 2020 with Covid the number of pet owners has increased over 2019. Millennials and younger adults have been the primary driver of growth. The long term secular trends include:
Pet grooming and boarding – including a luxury hotel for pets – Jet Pet Resort
Organic, allergy-free and fresh food for pets, instead dry or canned.
Pet care and sitting – paying professional dog walkers and pet sitters.
Pet insurance – the fastest growing segment within Pet care $TRUP
Move to online (ecommerce) ordering, subscription purchases, thanks to Covid and store closures – $CHWY, $BARK
Which are the best bets in Pet care market?
I will write a long piece on each of these stocks, but the 3 companies for me to invest in are
Growth stocks for 2020
a) Trupanion (TRUP)
b) Chewy (CHWY)
Speculative stock for 2020
a) Barkbox (SPAC acquisition by Northern Star Acquisitions Corp (STIC.U) , will list in Q1 or Q2 2020)
If there was only one company I could invest in, I would invest in Chewy. I already have a position and have consistently been buying it from $64. It is currently over $100.
Links