This post is a deep dive on Medicare Advantage plans and a look at one of the companies that recently went public Clover Health ($CLOV) valued at $1.9B (Jan 17 2020). I will try to review the entire Medicare and Medicare Advantage market in particular to see what advantages Clover Health brings to the market relative to competitors. I end with a recommendation on the stock.
What is Medicare?
In the United States, after you turn 65 years of age, you get certain health care benefits from the government. Medicare covers medical and hospital costs. There is no "cap" on what you might pay out of pocket and it tends to be fairly restrictive. Most people don't pay a monthly premium for Part A (free part of Medicare).
What is Medicare Advantage?
Medicare Advantage Plans are health insurance, sometimes called "Part C" or "MA Plans," are an "all in one" alternative to Original Medicare.
They are offered by private companies approved by Medicare. If you join a Medicare Advantage Plan, you still have Medicare. These "bundled" plans include Medicare Part A (Hospital Insurance) and Medicare Part B (Medical Insurance), and usually Medicare drug coverage (Part D).
Most Medicare Advantage Plans offer coverage for things Original Medicare does not cover, like some vision, hearing, dental, and fitness programs (like gym memberships or discounts). Plans can also choose to cover even more benefits. For example, some plans may offer coverage for services like transportation to doctor visits, over-the-counter drugs, and services that promote your health and wellness.
Medicare pays a fixed amount for your care each month to the companies offering Medicare Advantage Plans. Typically the insured individual pays a premium monthly for the "extras".
What are the benefits of Medicare Advantage?
Medicare Advantage plans include an annual out of pocket (OOP) spending limit, critical financial protection against the costs of catastrophic illness or accident.
That is, under Part C plans, there is a limit on how much a beneficiary will have to spend annually. That amount is unlimited in Medicare Parts A and B.
How large is Medicare and Medicare Advantage?
In 2020, nearly four in ten (39%) of all Medicare beneficiaries – 24.1 million people out of 62.0 million Medicare beneficiaries overall – are enrolled in Medicare Advantage plans.
The Congressional Budget Office (CBO) projects that the share of all Medicare beneficiaries enrolled in Medicare Advantage plans will rise to about 51 percent by 2030. This is a growing market.
This market is worth $270 Billion today and is expected to grow to over $500B by 2030.
Who are the key players / market operators in this market?
Medicare Advantage is offered by 100s of insurance companies. They get "paid" by the government if an enrollee joins their plan. The enrollee might pay more premiums out of pocket to cover the extras.
The top 2 insurance providers – United Healthcare and Humana own over 40% of the market, while the top 3 (including Blue Cross Blue Shield) own over 50%. CVS acquired Aetna.
Is Medicare Advantage a profitable segment of market for these insurers?
Gross margins for Medicare Advantage plans averaged $1,608 per covered person per year between 2016 and 2018 – about double the average annual gross margins for plans in the individual and group markets. That is reasonably profitable.
In 2019 alone, Health insurance companies made $35B in profit, and the biggest part of that growth came from MA (Medicare Advantage) plan growth.
In the United States, almost 60% of people are covered by Group plans, and only 15% by individual plans, so Medicare is very profitable for insurers.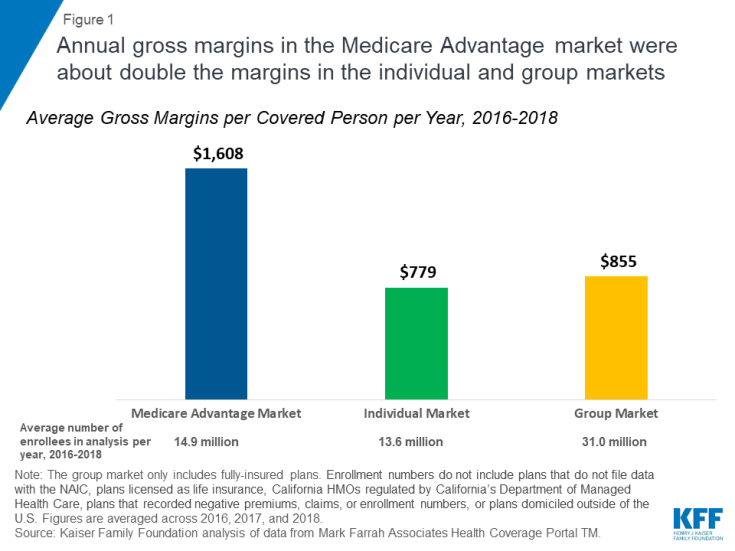 If you take into account however the costs, and since older people are more prone to higher healthcare costs, the Group market is as net profitable as Medicare Advantage.
What differentiates one Medicare Plan from another?
For the insured (patient):
No ($0) premium plans with extra coverage than offered by Medicare
More services & flexible provider choices offered by the Insurance company – meaning I can go to any doctor or physician instead of a limited choice
Quick (paper-free or less paperwork) settlement of claims
For the provider (doctor / hospital / clinic)
Less paperwork in submitting claims
Getting claims paid quicker and faster
Getting proactive with patients to reduce visits and increase healthcare provider productivity
What are the big trends that are shaping this market?
The biggest trends that are to be watched closely in the Medicare Advantage market are:
Rapid growth of Medicare advantage as more people move from simple Medicare to Advantage plans – Insurers are trying to differentiate themselves by providing more in-network services
Pay for value (outcomes) instead of fee for services. This aligns interests of provider (doctor) with patient, so instead of the provider making them spend more money on tests and procedures they focus on keeping the patient proactively heathy.
Telemedicine, in-home patient care, remote care, managing costs of prescription drug coverage are all the larger healthcare trend that are relevant for Medicare Advantage as well.
Who is Clover Health? What is their background?
Clover Health was founded in 2012 by Kris Gale ("Gale") and Vivek Garipalli ("Garipalli").
Clover Health completed its Series A round of funding in 2015, raising $100 million from investors such as Athyrium Capital Management and First Round.
The Company completed its Series B round of funding later that same year, with its Series C round completed in May 2016.
Clover Health has raised around $295 million in funding, from investors including Nexus Venture Partners, Greenoaks Capital, Arena Ventures, and Sequoia Capital.
Clover Health currently serves a range of customers across counties in New Jersey and Texas, with plans to expand its operations further.
What does Clover Health offer?
Clover Health is a medical insurance and medical services provider. The Company provides a range of health coverage plans to members, which are specifically targeted at consumers aged over 65 years of age who have chronic illnesses or certain disabilities, under the government-funded Medicare Advantage program.
The Company collaborates with a range of healthcare providers – including physicians, clinics, specialist care providers, and eye care providers.
How is Clover Health different?
In order to offer better outcomes for patients, the founders realized they need to use data and machine learning for patients, doctors and everyone else in the system. This can help reduce patient visits, make it easier to identify patient problems quicker and reduce cost of healthcare.
Clover set to build an expert system powered by data and AI to help doctors and providers get answers proactively using Clover Assistant (Used by Doctors).
How fast is Clover Health growing?
Fast. Extremely fast. Clover is available in few markets, but it is growing into other markets rapidly.
Doesn't every one say Machine Learning and AI these days?
Yes, every company says that in their IPO and presentation documents. The key is to see if
a) they have enough data,
b) they have expertise to use that data to build ML models,
c) they have problems (questions) to answer that can be scaled,
d) those answers can drive business outcomes, i.e. increase revenues, reduce customer churn, reduce cost of customer acquisition or reduce cost of services.
I believe Clover Health has all the elements to help them leverage data and technology to increase patient outcomes.
So what will that mean going forward?
This should result in Clover doing 3 things:
Increase patients under coverage (thereby increasing revenue)
Taking share from other providers in the market
Reducing cost of providing care and hence improving margins
This will mean revenues grow 37% (CAGR) from $664M in 2020 to $1.7B by 2023.
This means EBIDTA margins of 0.9% by 2023 from -6.4% in 2020.
Is this a good stock to own?
Clover is currently priced at $13.24 per share with a Market cap of $5.9B. It has a 52 Week High of $17.45 so 24% off its high. It is richly valued, but the growth is compelling.
I believe the combination of data driven patient outcomes with a doctor provided Clover assistant offering is a differentiator in the market, where most other plans only offer an "insurance" offering.
I cant say that Clover stock price will not go down further from here, but this is an attractive stock to own for the long term in the Healthcare market for 3-5 years.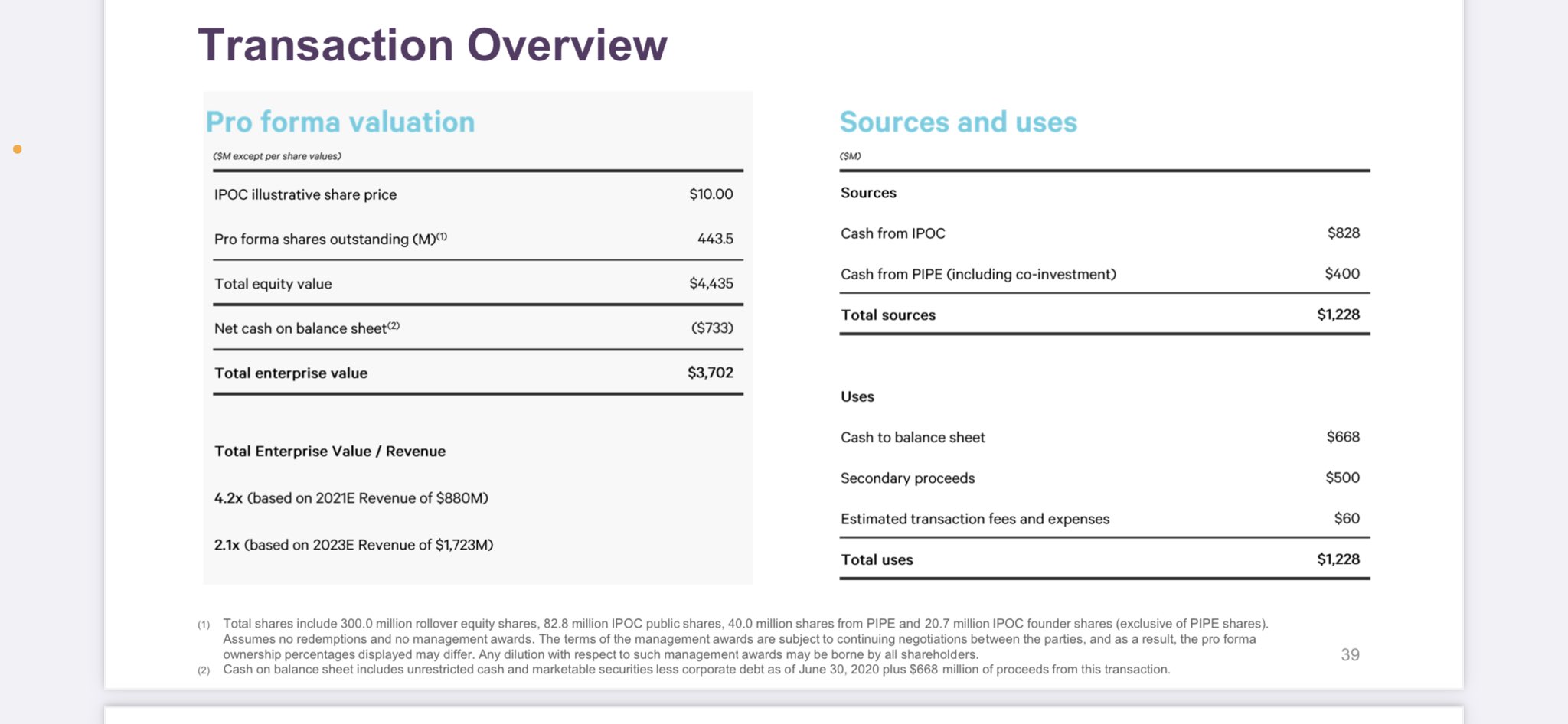 What are is the 1 year price target?
Assumptions:
2021 Revenue will be > $900 Million (company provided range is $872 M). 2020 Revenue is $671M.
Revenue growth for 2021 is 33%.
Current EV/ Revenue Multiple is 8.9.
I expect continued margin improvement to 20% (currently 18%).
Over 75K Medicare advantage members (company provided range is 73.4K)
Based on these assumptions, and looking at comparable growth ranges (below) and industry multiples I think this can be given a multiple of 8 – 10 EV/Revenue.
For 8X EV/Revenue the stock price at the end of 2021 will be $16.25, with 21% upside.
For 9X EV/Revenue, the stock price at the end of 2021 will be $18.2, with 36% upside
For 10X EV/Revenue, the stock price at the end of 2021 will be 20.3, with an upside of 51%.
Even at these multiples, given the growth it will be valued in between a high growth SaaS company and a poorly valued Healthcare insurance company.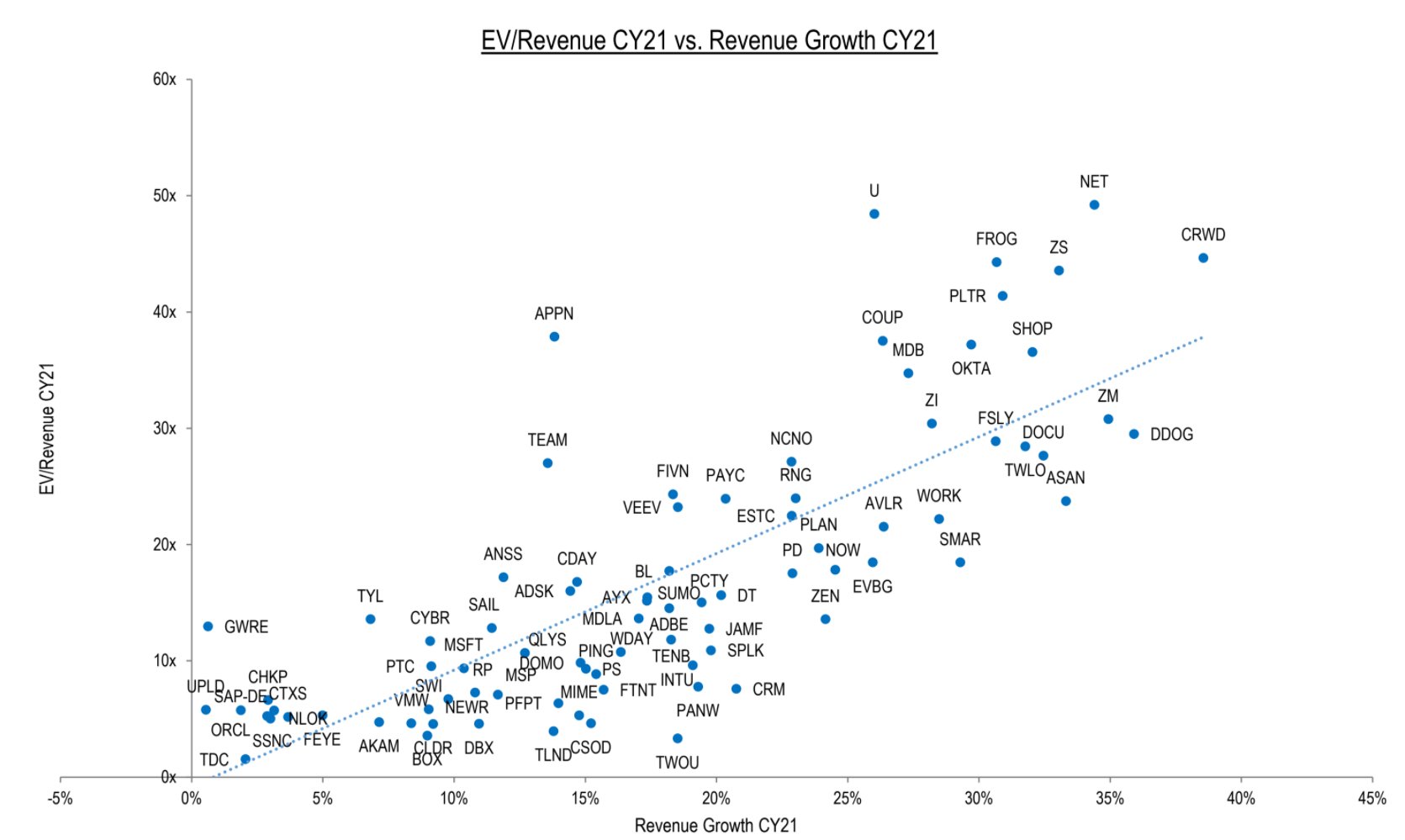 How can Clover Health grow faster?
Clover Health has stated that it can use its technology in a scalable fashion. It will likely acquire many more companies (see targets below) in the space to rapidly increase revenues and number of patients in plan.
What are the risks?
They are a local (regional) provider in 1-2 states and still building out their scale and capabilities
Carepoint a previously owned hospital chain by the founder contributed to most of the initial enrollment (source)
Their growth by acquisition approach is still to be proven. They have not acquired a single company so far.
References
https://investors.cloverhealth.com/static-files/ed2bc09d-cd96-4759-897e-862c2b250213
https://investors.cloverhealth.com/news-and-events/investor-events-presentations
https://investors.cloverhealth.com/static-files/10a160f4-4023-449d-bed9-6581d573eba1
https://investors.cloverhealth.com/static-files/8947bb5e-eb8d-4aa5-9c11-186c518d7676
https://www.cleverism.com/company/clover-health/
https://www.fiercehealthcare.com/payer/big-name-payers-earned-35-7-billion-2019-here-s-one-common-thread-their-reports
https://www.medicare.gov/sign-up-change-plans/types-of-medicare-health-plans/medicare-advantage-plans/how-do-medicare-advantage-plans-work