$ZIP ZipRecruiter is an online marketplace for jobs. ZipRecruiter works like a matchmaker curating job opportunity for job seekers, and candidates for employers.
$ZIP is planning to go IPO via direct listing sometime in Q2 2021.
Background
The company was founded in 2010 by Ian Siegel Joe Edmonds, Ward Poulos and Will Redd in Santa Monica, California. The company's investors include venture capital firms IVP and Basepoint Ventures.
$ZIP has raised more than $250M in funding and was previously valued at $1.5B in 2019.
Market
Employers spend more than $205B per year in the United States alone to recruit talent.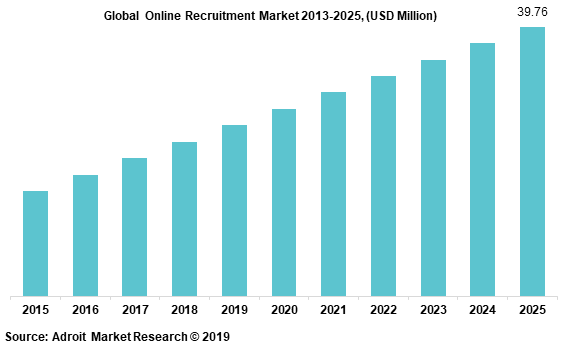 Online recruitment alone represents over $13 billion of this opportunity.  The online segment of the U.S. recruiting market is expected to grow at a compound annual growth rate, or CAGR, of 14.1% from 2016 to 2025.
The online segment of the recruiting market in the U.S. is expected to continue expanding its share of the recruiting market, with online share increasing from 3% in 2016 to 6% in 2020 and to 8% in 2025.
Industry
ZipRecruiter has competition in LinkedIn, Indeed, as well as from many well-established online job sites such as CareerBuilder, Craigslist, Glassdoor, and Monster and may face additional competition from Google for Jobs or Facebook.
Product
Jobs posted with ZipRecruiter are distributed to well over 1,000 career sites.
When employers post a job, ZipRecruiter's matching technology identifies and sends an alert to the best job seekers in $ZIP
$ZIP provides employers with access to 14M monthly Active Job Seekers.
Customers
Roughly about 2.8 M employers and 110M job seekers use $ZIP
$ZIP experiences a decline in the Paid Employers during the fourth quarter as a result of seasonal hiring dynamics.
The number of Quarterly Paid Employers December 31, 2019 declined by 9% as compared to the quarter ended September 30, 2019.
In 2020, $ZIP experienced a decrease in sequential revenue of 23% in the quarter ended June 30, 2020 as a result of the COVID-19 pandemic, but saw consecutive quarters of revenue growth of 17% and 11% in the third and fourth quarters of 2020 as employers started to return.
Revenue in the second half of the year represented 52% of total annual revenue in 2018, 2019 and 2020.
The average customer spends about $1200+ each year.
$ZIP provides a variety of pricing plans from flat rate pricing on terms ranging from a day to a year, as well as performance-based pricing for employers that run sophisticated recruitment marketing campaigns.
$ZIP subscription revenue consists of time-based job posting plans, upsells which complement or expand visibility and prominence to job posting plans, and resume database plans.
Go to Market
Customer payback period averaged less than 16 months, meaning that the Cohort's Employer Acquisition Expense was, on average, recovered within 1.5 years.
$ZIP spends money on marketing campaigns and has an inside sales team.
Management
ZipRecruiter is run by a seasoned management team with average tenure of about 24 months at $ZIP
Financials
Last year, it had net income of $86M on revenue of $418M , compared with a net loss of $6.3M on revenue of $430M in 2019.
Revenue slowed because of Covid but they turned a profit.
The company was worth $1.5 billion in a 2018 fundraising round. ZipRecruiter is expected to list the IPO at between $3B and $5B in valuation.
The company hired Goldman Sachs Group Inc and JPMorgan Chase & Co to lead in the preparations for the IPO.
Valuation
At $3B – $5B in valuation, with expected 20% growth the company is valued at 7X to 12X 2020 revenues.
Recommendation
While this is an interesting company, I am going to wait for 6-9 months until after the IPO and 2 quarters of execution before I even take a position (or not).