$IPW iPower runs and operates zenhydro.com, an online eCommerce store for Hydroponics equipment and other indoor farming and Agricultural products. They sell their products via $AMZN Amazon, $WM WalMart, $EBAY eBay and other online distribution channels.
$IPW is going to list on NASDAQ on May 6th 2021. They are looking to raise about $50M, pricing 5M shares at about $10 (mid point of range $9-$11). The issue is being managed by D. A. Davidson.
$IPW – At that price they will be valued at about $220M, giving them a EV/Revenue multiple of 5.25 and EV/EBIDTA of 53 for a company growing at 75% YoY.
iPower sells 26K 3rd party products (via partnerships with 100 suppliers) and its own private label products to indoor farming enthusiasts and professional growers (marijuana, microgreens, etc.)
The company grew revenues 75% in 2020 to $40M with net income of $2M. Revenue in 2019 was $26M and net income was $1M.
The company has its own fulfilment center in California and has been very capital efficient, raising less than $3.5M to date.
$IPW iPower was founded in 2010 by CEO Chenlong (Lawrence) Tan, but only recently (2018) changed its name and legal entity to iPower.
In 2020 $IPW product sales mix includes: Nutrients such as fertilizers, (17%), Ventilation systems (16%), Grow light systems (9%), Air filter devices (8%) and Trimmers (4%) among other products.
They also sell their own private label brands iPower and Deluxe for ventilation and lighting.
What is Hydroponics?
Hydroponics is a method of gardening in which plants are grown in a controlled environment with lighting sources and an optimized mix of nutrients and water, instead of soil.
Roots of the plants are submerged in water giving them direct access to nutrients resulting in efficient growth.
Since hydroponics can be grown indoors, plants are protected from weather, pests and chemicals.
How large is the Hydroponics market?
Hydroponics is largely used to grow micro greens, cannabis & other vegetables. The global hydroponics market is about $9.5B in 2020, growing at 5% CAGR to $18B by 2026.
The growth is driven by indoor growing of year-round hothouse vegetables in small batches, as well at large growth in cannabis.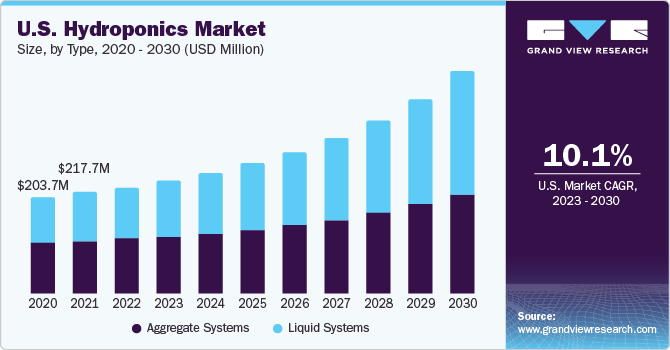 How well has iPower executed?
$IPW iPower has executed its growth very well, with strong top line revenue growth of 75% during Covid, gross margins of 38%-41% and net income of $1+M.
$IPW Monthly revenue has grown from mostly 3rd party product sales (lower margin) to private-label products (higher margin).
How does $IPW distribute its products?
$IPW operates its own website (zenhydro.com) but also sells on $AMZN (Amazon.com) as a 3rd party seller, as well as listing on Walmart $WMT and eBay $EBAY.
In 2020 $AMZN business grew 87% YoY, with 62 listed products on the Amazon marketplace and 5 best selling SKU.
The manage their own logistics and fulfillment center near Los Angeles, California from where they ship and distribute products.
Why are they growing so quickly?
Covid growth in eCommerce is pushing their short term growth trends. There are 2 customer segments – small residential gardens and small commercial cultivators – who focus on Vertical farming.
They have a good mix of products and growth has been driven by Cannabis sales due to Covid in 2020.
Who are the competitors?
Over 200 hydroponics equipment makers and distributors exist in the US alone, with the large ones being Aerofarms, Freight Farms and LumiGrow.
What are the risks and concerns?
There are 5 major concerns I have:
2020 growth was driven by Covid and movement from offline purchases to online. Will that be sustained?
Of the 170 reviews for the store, their rating is 1.7 / 5, which is very low. Most of the reviews are about poor customer service and delayed product shipments. However their $AMZN store reviews are terrific, so I am not sure why they seem to have issues with direct fulfillment.
There is one employee lawsuit pending in LA court which is still ongoing but not disclosed in the SEC filing.
The company's sole founder has majority of the Class A stock which have 10:1 voting rights representing 96.53% of voting power.
75% of sales are via 3rd party platforms such as $AMZN and $WMT. If this slows or if the platforms cause issues, revenue is going to drop quickly.
What is the recommendation?
$IPW As with all IPO I would watch $IPW for 3-6 months before I take a serious position. The superficial numbers and growth look good and I like the valuation, but Covid growth concerns and poor customer reviews give me pause.
References
•https://www.bloomberg.com/profile/person/20499356 •https://www.retailroadshow.com/presentation/#/pres?presid=894692 •https://www.sec.gov/Archives/edgar/data/1830072/000168316821000335/ipower_s1.htm •https://trellis.law/ruling/19STCV29272/WENJUAN-LUO-VS-CHENLONG-TAN/20200826edb627
•https://unicourt.com/case/ca-la23-wenjuan-luo-vs-chenlong-tan-428438