$WDH Waterdrop Inc., the Chinese insurance technology company will IPO on May 13th at $10-$12/share raising about $360M, valuing the company at about $4.5B.
$WDH is backed by Tencent $TCEHY which has also backed SEA Limited $SE, Futu Holdings $FUTU among other companies.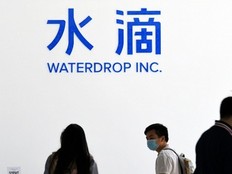 Waterdrop distributes insurance policies online and provides illness crowd-funding.
China's online insurance market, may grow to as much as 2.5 trillion yuan ($387B) in a decade, growing at 16% CAGR, according to China International Capital Corp.
$WDH insurance crowdfunding has more than 70 million users as of 2019 and paid out almost 2 billion yuan to members.
Waterdrop has 2 units – Waterdrop Insurance Marketplace and Medical Crowdfunding.
The company helps those who face significant medical cost conduct crowdfunding campaigns. More than 340 million people donated 37 billion yuan to 1.7 million-plus patients as of the end of last year.
It lost $169M last year on revenues of $464M (+111% YoY). It had $162.8M in cash before the IPO.
The biggest challenges are  pending regulatory changes that could halt key operations to prolonged losses if it spends for expansion. Chinese regulators already attempted to block the listing, according to Reuters.
Goldman Sachs (Asia) LLC, Morgan Stanley & Co. LLC and BofA Securities, Inc. are acting as the representatives of the underwriters.
$WDH was founded in 2016, by founder, Chairman and CEO Peng Shen, who was previously a founding team member of Meituan Waimai, a food delivery service in China.
Waterdrop has received $741M in investment from investors including Neptune Max, Image Frame Investment, Boyu Capital, Gaorong Capital, and Swiss Re.
$WDH has 62 insurance carriers offering 200 different types of health and life insurance products on its platform
At 10X LTM (but 100%+ growth) and increasing losses, the valuation is very rich compared to recent IPOs of Insure Tech companies in the US – $LMND Lemonade, $OSCR Oscar Health, $ROOT Root Insurance and $RTPZ Hippo Insurance.