$FIGS (Figs Inc) filed to go public last week. The company sells Medical apparel (Scrubs) to professionals online. It is looking to raise about $100M in the IPO, and seeking a valuation of $3.5B to $4B. The final pricing of the stock and expected valuation will be confirmed by June 2021.
$FIGS was founded in 2013 and has raised $75M+ in funding so far. The company did $263M (+131% YoY) in revenue for 2020, with net income of $49M, compared to $112 the year ago.
The founders saw a chance to innovate a sleepy market by using fabrics that were sleek, lightweight, and breathable and by selling direct to consumer, a model that was popularized by Warby Parker.
Its direct-to-consumer (DTC) strategy enables $FIGS to "engage with the medical community of health care professionals before, during and after purchase."
The founders received Ernst and Young Entrepreneur of the Year Award for the Greater Los Angeles Region in 2018 and $FIGS has been a Fast Company "most innovative" company" award winner for years.
Market
For the over 19M healthcare workers in the U.S. (BLS) as of 2017, $FIGS offers stylish (meaning better fit, not loose or baggy), antimicrobial, odor-free and wrinkle-free designs of apparel (called Scrubs).
Until the late 1980s, scrubs were a business-to-business industry, when hospitals bought on behalf of their staff. Then, budgets were constrained and the hospitals stopped buying them. Doctors and nurses were left picking up the tab.
Medical apparel is now a $10B industry here in the U.S., and a $60B industry worldwide.
Product
$FIGS introduced its direct-to-consumer model with $60-and-up prices, innovative styles and a Silvadur-treated antimicrobial, wrinkle-resistant and odor-free fabric.
$FIGS scrubs retail for $84 / full set — costing multiple times what typical scrubs do, which range from about $10 to $60. But unlike regular scrubs, they'll last longer as long as they don't get stained is the company's claim.
$FIGS scrubs are made with "proprietary fabric technology, called FIONx, (that) offers four-way stretch, anti-odor, anti-wrinkle and moisture-wicking properties," along with "easy-to-access zippered pockets" to store stethoscopes, scissors, smartphones or ID badges. Designs, fashion and fit are the differentiators as well as materials the Scrubs are made of.
It also sells lifestyle and professional apparel, such as lab coats, outerwear, activewear, loungewear, compression socks, footwear, masks and face shields.
Go to market
Since $FIGS is DTC, they market and sell directly using advertising & social media (Instagram) as their primary vehicle to attract customers. FIGS has cultivated influencers (called ambassadors) who promote its products on social media.
Figs billboards advertise the scrubs with pithy sayings and images that make doctors and nurses look like fashion models.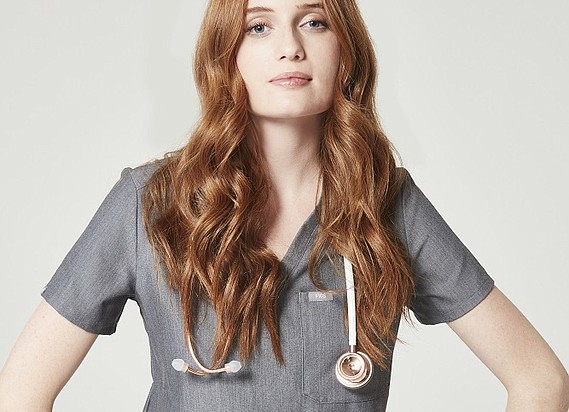 The hashtag #wearfigs is a rapidly populating stream of posts, with percentage coming from Figs' official roster of 200 ambassadors who receive free scrubs.
$FIGS Instagram page has over 500K followers showcasing customers—primarily women, who make up 70% of Figs's customer base—in brightly lit settings, far from the mayhem of an emergency room.
In 2019 the company also opened a pop-up store in LA.
Awards
Between 2015 and 2018, FIGS reported 9,948% growth, being recognized as Best for the World B-Corp in 2015, as well as ranked Number 21 on Inc. Magazine's Inc. 5000 ranking of the U.S. fastest-growing companies in 2018.
Competition
$FIGS competes with Strategic partners, Jaanuu and others in this $10B market.
Strategic Partners (SPI), a company that launched in 1995, has been selling in bulk to brick and mortar stores . It is the largest scrubs maker in the world with 40% of the US market via brands like Dickies and Cherokee.
SPI generates about $900M in sales and controls about 40% of the market.
Jaanuu, sells scrubs that look like they could have just come off a runway. Jaanuu was founded in 2013 by Dr. Neela Sethi Young and her brother, private equity investor Shaan Sethi.
Metrics
Last year, Figs' community of active consumers grew from 600,000 to about 1.3 million, and about 60% were repeat shoppers.
The company's sales got a boost from the Covid-19 pandemic, during which more hospitals, medical offices and clinics were requiring staff to wear clean scrubs and other medical apparel daily.
Operations
$FIGS has 202 employees and an embroidery workshop and fulfillment center in California, that is operated by a third-party logistics provider. It sources the majority of the fabrics used in its products from two suppliers in China, while other raw materials, such as content labels, elastics, buttons, clasps and drawcords, come from suppliers located predominantly in the Asia-Pacific region.
The company outsources its garment manufacturing operations to factories in Southeast Asia, China and South America.
Risks
$FIGS has benefited from Covid growth, which may taper off. However, the cost of customer acquisition has come down significantly and time to profitable customer is the 1st order.
$FIGS has been accused by Strategic Partners Inc. (SPI) that its business plan was derived from a 300-page confidential report that co-founder Trina Spear filched when she worked as a marketing associate for Blackstone, the private equity company.
SPI — which manufactures and sells scrubs for brands such as Cherokee, Dickies, Elle and Disney — alleges that Spear accessed the company's business secrets.
SPI, which is owned by private equity firm New Mountain Capital Group, contends Spear shared that information with business partner Hasson and even bragged about it at an event last year in an interview that was posted on YouTube.
There are multiple class action lawsuits on the marketing of its products as "anti-microbial" as well from individual consumers.
$FIGS has been on the receiving end of a poorly executed Ad campaign which accuse the company of being insensitive and stereotyping medical professionals.
The company targets medical students and recent medical college graduates with significant student loans but does not offer financial compensation for their marketing work, instead giving a free pair of scrubs with a suggestion that modeling for FIGS would result in social media popularity.
After addressing the video, FIGS co-founders Heather Hasson and Trina Spear apologized for publishing the video, which they said was "offensive" and "particularly disparaging" to women in medicine.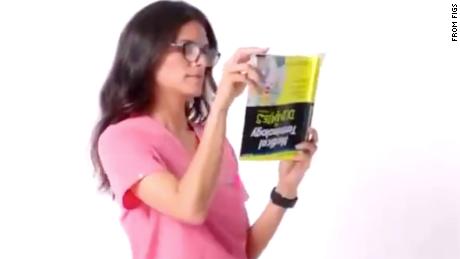 Valuation
While DTC (direct-to-consumer) peers such as $HNST (Honest Company), $CSPR (Casper Mattress), $PRPL (Purple Innovation) and $STIC / $BARK (Barkbox) are still trading at low (2.5X to 5X 2021 EV/ Revenue) multiples, $FIGS is expecting a 7X – 10X multiple, which makes it expensive.
With 60%+ gross margins, 100% YoY growth and profitable business, however, it is likely to get enough buyers.
Recommendation
Of the multiple new IPO's, I like $FIGS, since it is similar to $STIC / $BARK – high 60% margins, good growth and profitable.
I will, however wait for a few months to see their execution as a public company before I initiate a position.
References
$FIGS S1 Filing