$HLTH is a fascinating company and I am going to take a very different approach to this IPO overview. Cue Health manufactures a rapid healthcare diagnostics product. It is similar to home glucose meters or pregnancy kits.
Cue $HLTH intends to sell its devices direct to consumer. It is currently sold to healthcare professionals. It currently provides a rapid (25 minutes) Covid 19 test, which is FDA approved.
$HLTH – In 2009 after the SARS virus, Ayub Khattak (UCLA 2010) and Clint Sever, co founders of Cue decided to build a device that detects the virus at "home" instead of going to a diagnostics lab to test for the virus.
After multiple iterations and funding from incubators, accelerators and other institutions, they launched a version of their diagnostic device in 2015. Sold for $150 (pre order) or $300, it detected vitamin D deficiencies, testosterone levels and influenza. Each test can be administered with a cartridge (sold for $2 – $10 each). The device itself is handheld.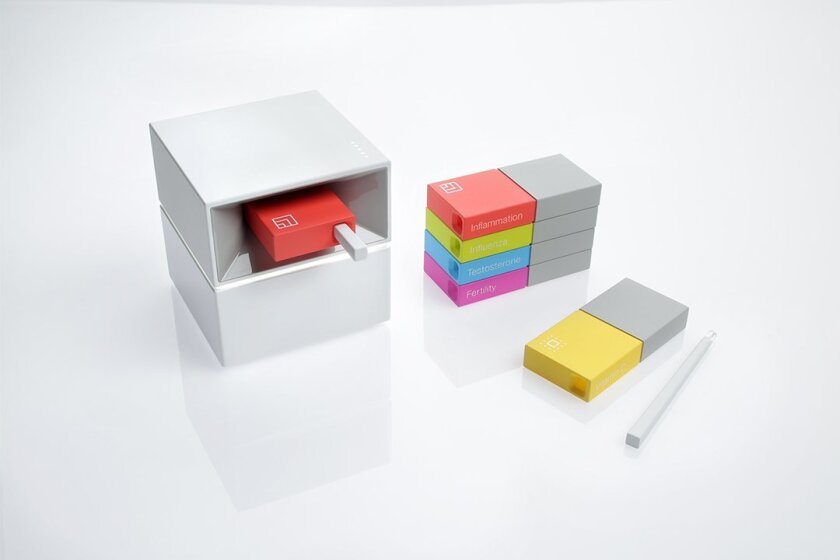 Users provide a nasal swap, or drop of blood or saliva, depending on the test. Results arrive in minutes, displayed on an iPhone or Android smartphone using the Bluetooth.
If this reminds you of Theranos (yeah, I had flashbacks too), the similarities end quickly. Since March 2020 the company got $481M in funding from the Department of Health and Human services (HHS) to ramp up production of its Covid19 diagnostic test.
$HLTH claims efficacy close to other (95%+) detection. The test is administered to patients by using a proprietary nasal swab ("Cue Sample Wand"); the swab is inserted into a small medical device ("Cue Cartridge Reader") that analyzes it with a high degree of accuracy.
$HLTH The U.S. government plans to buy about 6 million of the test swabs from CUE plus around 30,000 analytic devices to perform the patient sample testing analysis.
Cue $HLTH has received funding from Johnson & Johnson $JNJ and many others as well. (Disclosure: a colleague & acquaintance Ashish X is on the board of $HLTH and I have no position in the company).
In Dec 2020, $HLTH raised $235M at over $2B in valuation. It mentioned at that time that the Department of Defense, the NBA (National Basketball Association) were all customers.
With over 100 patents and over 1000 employees, the molecular diagnostics company has benefitted from the Covid19 test and ramped up revenue significantly.
$HLTH although the only test available now is Covid19, the company plans to launch (Late 2022) other tests as well.
$HLTH near term pipeline is strong and some of the other diagnostic tests are expected in 2021 as well.
Financials: Although 11+ years old, until 2020, $HLTH had no revenue. In 6 months of 2021 they booked $202M in revenue (+ Infinite YoY :). With 57% gross margins, they still managed $32M profit (Whoa) or $0.22 per diluted share. This is profitable company, but huge losses in 2019 (20M) and 2020 ($47M)
$HLTH has over $260M worth of convertible notes, however, so expect more dilution post IPO.
Risks: $HLTH is new, it is a young company which is scaling quickly thanks to the Covid19 – where it faces other competition as well. Although it is a 10 year old company, the production and ramp up has only begun in 2021.
$HLTH has not proven it can actually deliver all those other diagnostic tests as well. If the FDA revokes the EUA (Emergency Use Authorization) for Covid19, expect revenue to drop significantly.
In the near term (18 months) $HLTH is dependent on Covid19. Going by vaccination rates in the US, it seems like a safe bet, that they will continue to do well.
$HLTH depends on the US Department of Defense (DoD) for nearly 83% of revenue. This is another big risk. As part of their obligations to the DoD, they have to deliver 30K Cue readers and 6M Covid test kits. They currently have 100K per day manufacturing capacity in San Diego.
$HLTH has over 50 other diagnostic testing market competitors, many of which are much larger.
Valuation $HLTH has not mentioned its valuation, but it is expected to be between $3B and $4B (expected estimates) or higher. There are no growth metrics expected, but the DoD contract runs for 3 years. Commercial customers are also purchasing bulk Cue kits. At $3B this will be approximately 6X and at $4B 8X EV/Revenue, which is much higher than any other diagnostic competitor.
$HLTH has net income so the valuation metrics for EV/Net income should be 49X EV/Net Income at $3B valuation.
I am certainly going to watch this IPO closely. I am very interested in the $HLTH platform overall and keen to build a position for the long term